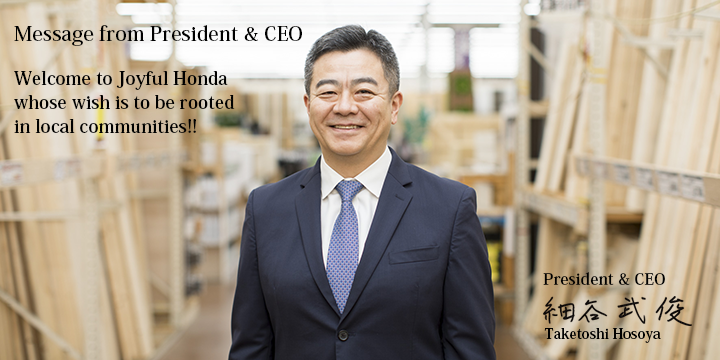 When I was in my late twenties, I went to the United States for the first time and stayed there for three years.
I remember that I was truly overcome by the huge land, the cheerful spirit of the people, and the awesome presence of gigantic shopping malls operating at the height of prosperity at that time. There was also the very fresh and strange feeling that everywhere we went, the local people were friendly called out to our Asian family: "Enjoy!"
A quarter-century has passed since that time, and our daily lives have become tremendously convenient. It is also true, however, that I miss those days when things were less convenient and less abundant than they are today. Such a feeling may be deeply connected with the fact that capitalist societies, which continuously pursued economic rationality and increased reproduction, are facing a big turning point.
In 1975, nearly half a century ago, Shoya Honda, the Company's founder, decided its name would be "Joyful Honda." He was a striking person with creative ideas and the ability to act. Those are our roots. When society at the time regarded loyalty and working diligently to be the sole principle, our founder had the vision that work should be a joy and we should create dreams together through joy. In that way he incorporated his vision into the Company's name.
Getting back to those roots, we will work on creating an organization that will not be a tiny, neat group, but will make every effort to achieve exceptional performance in unique ways.
Furthermore, we really want to be deeply rooted in local communities, so that local people in our operational areas can have a sense of attachment to us. We want to become a place that facilitates meeting, communicating, and caring for each other, and to make people feel relaxed. We also aim to serve as a store that can cheer customers up a little through a visit. While keeping our founding principle always in mind, we will take on new challenges every day. Welcome to Joyful Honda!
[Review of 1Q FYE 6/20/2022]
During 1Q of the fiscal year ending 06/20/2022, Japan's economic activities were sluggish amid the expanding COVID-19 crisis, followed by the declaration of the state of emergency for wider regions in August due to the fifth wave of the pandemic and continued restrictions on going out and restaurant operations.
The demand for at-home consumption in response to the spread of COVID-19 continued to support mainly the sales of COVID-19-related products in the home center industry. However, the industry continued to face a tough business environment due to lower sales as a result of a rebound from extraordinary demand caused by various factors in the previous year, a sharp increase in infections, as well as continuous rain and low temperatures in mid-August. All of these dragged down the number of store visitors and affected the sales of seasonable products.
In these challenging circumstances, we have pursued this year's basic policy "Enjoyment First." Amid the ongoing challenging business environment of COVID-19, we understand that the continuous provision of essential items and proposal of lifestyles are our enduring mission. In times like these, it is all the more important for us to make sure we do interesting things to make our customers happy. With this in mind, all our employees have been engaged in activities to improve corporate value. With three priority measures to promote our basic policy "Enjoyment First," we started new challenges and investment activities. We have further differentiated this year with an emphasis on uniqueness, and have positioned this as the first year of being a "Living Space Innovator" that evolves both in name and reality.
With regard to "Making Another Try to Increase Sales," one of our priority measures in order to increase sales and profit margin, we will make further efforts to demonstrate our strength as the best store in the region. We will do this by taking advantage of our uniqueness that is rarely found in other retailers, and by flexibly responding to "unplanned consumption" and "planned consumption" based on cross-merchandising and a variety of lifestyle proposals that are enabled by the integration of sales floors.
As an effort to "Continue Promoting Revenue Structure Reform," we aim to ensure and continue appropriate cost control. We will do this by continuing to accelerate store operation reforms through reviewing staff allocation to reduce the burden of product management and sales, consolidating headquarters functions and stores' administrative functions, promoting PMI by optimizing and standardizing the operations of the merger business, and demonstrating a cost synergy of mergers, streamlining and speeding up the operations through the promotion of DX to further optimize operational cost.
As for "Active investment for the future," we will open new stores as part of business development and property development, promote store development mainly using properties with all their furnishings, and pursue alliance synergies and discontinuous growth in order to expand business and create new added value through alliances. As an effort to increase corporate value by promoting SDGs and ESG, we will increase job satisfaction and promote women's participation in society as a project, while enhancing the lineup of sustainable products.
In August, as a new project campaign, we conducted a collaborative project with Tsuburaya Production Co., Ltd., producer of the Ultraman series, a popular hero loved by three generations, and opened a pop-up store "ULTRAMAN & JOYFUL HONDA." We had opened six stores in total by the end of September, and hope to open three more stores in series. In addition, we will also develop SNS campaigns and collaborative campaigns.
As an initiative to improve customer convenience, we merged the product master and checkout functions of the home center stores and JOYFUL-2 (Art Craft) in June, which allow for floor integration, enabling us to propose a variety of lifestyles.
From an ESG perspective, in July, in cooperation with the Guide Dog Support Center, we began selling charity goods, installing donation boxes, and conducting awareness-raising activities by hanging posters in our stores. These are efforts to boost understanding, interest, and support for guide dogs. A certain portion of the proceeds from these activities and the donated funds will be used to support social participation by people with disabilities and will be donated to the Japan Guide Dog Association. In addition, to prepare for natural disasters such as typhoons and earthquakes that have increased in number in recent years, we are making the utmost effort to help maintain the safety of local customers by expanding the lineup of emergency supplies.
As a result of implementing our capital policy, we cancelled treasury stock on August 20 (29,876,849 shares, equivalent to 28.94% of the total issued shares before cancellation) for the purpose of strengthening shareholder distribution and eliminating a future dilution risk. In addition, for the purpose of improving capital efficiency and increasing earnings per share, we have announced that a limit to the purchases of treasury stock (up to 4 million shares for an amount of 5 billion yen in total) has been established in order to execute the purchases in a flexible and continuous manner.
As a result of these efforts, net sales for 1Q of FYE 06/20/2022 were 30,862 million yen (34,165 million for the same quarter of the previous year), with operating income at 2,909 million yen (3,175 million yen for the same quarter of the previous year), ordinary income at 3,196 million yen (3,406 million yen for the same quarter of the previous year), and profit at 2,210 million yen (2,354 million yen for the same quarter of the previous year).
During the first quarter of the fiscal year under review, we continued to promote revenue structure reform. As a result, gross profit margin is on an upward trend mainly because of strengthening our merchandising capabilities, and selling, general and administrative expenses continue decreasing as a result of cost control efforts including operational efficiency improvement.
Sales by major segments and product groups for 1Q FYE 06/20/2022 are as follows:
Housing-related segment
The sudden spread of COVID-19 and unsettled weather during the Bon festival (in August) and other busy seasons affected the number of customers and sales of seasonal products. In addition, a negative backlash following demand associated with the special cash benefits in the previous year, measures against typhoons, and demand for at-home consumption and for preventive measures against COVID-19 dragged down net sales.
Specifically, unsettled weather affected net sales of home appliances such as electric fans and air conditioners. In addition, net sales of products with relatively high unit prices, such as gardening machines, power tools, storage sheds, and curtains decreased due to a negative backlash following the granting of special cash benefits. Also, net sales of power generators and curing tapes, etc. declined due to a negative backlash following demand for typhoon countermeasures. In addition, net sales fell for furniture and plastic storage products whose sales had increased in the previous year due to demand from the stay-at-home economy, and for plastic sheets to block airborne droplets whose sales had been generated by demand for COVID-19 countermeasures in the previous year. On the other hand, diversified consumer lifestyles and tastes, and new demand generated by changes in the external environment positively contributed to net sales of air conditioning suits, work chairs for remote work, house plants, garden ornaments and planters, etc. Also, new demand generated by the Green Housing Points System positively contributed to net sales for construction to reform bathrooms, etc.
As a result, net sales were 17,242 million yen (19,016 million yen for the same quarter of the previous year).
Life-related segment
Unsettled weather weighed down sales of beverages and recreational goods. The prices of masks whose demand was generated by COVID-19 countermeasures in the previous year have fallen, and net sales have decreased for anti-bacterial and disinfectant products which had already been stocked up. Moreover, the front-loaded demand triggered by the revision of the Liquor Tax Act in October of the previous year negatively contributed to net sales of liquors. On the other hand, healthy dog foods and cat foods including premium foods, and pet goods positively contributed to net sales of pet-related products.
As a result, net sales were 13,619 million yen (15,148 million yen for the same quarter of the previous year).
Full-year earnings forecasts for FYE 06/20/2022 (06/21/2021 – 06/20/2022)
For the 1H of the FYE 06/20/2022 and the full-year earnings forecasts, there is no change in the earnings forecasts announced on August 3, 2021.
Net sales
Operating income
Ordinary income
Profit
Profit per share
million yen
%
million yen
%
million yen
%
million yen
%
yen
1Q + 2Q
67,000
1.0
6,200
8.1
6,600
5.8
4,600
13.7
66.41
Full year
131,000
0.1
11,800
2.6
12,900
1.0
9,000
0.2
129.93
Note: The Company has adopted the "Accounting Standard for Revenue Recognition" (ASBJ Statement No.29, March 31, 2020) and other standards since the beginning of the FYE 06/20/2022, and that the respective earnings estimates reported above show the amounts after which the above-mentioned accounting standard is applied. In addition, the rates of increase and decrease in the respective figures compared with the same period and the same quarter of the previous fiscal year are calculated on the assumption that the above-mentioned standard, etc. are applied to FYE 06/20/2021.