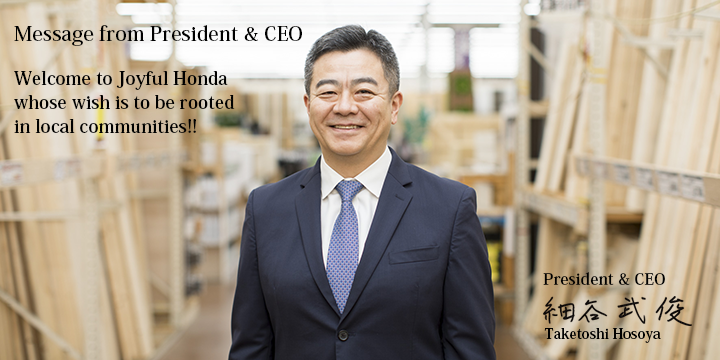 When I was in my late twenties, I went to the United States for the first time and stayed there for three years.
I remember that I was truly overcome by the huge land, the cheerful spirit of the people, and the awesome presence of gigantic shopping malls operating at the height of prosperity at that time. There was also the very fresh and strange feeling that everywhere we went, the local people were friendly called out to our Asian family: "Enjoy!"
A quarter-century has passed since that time, and our daily lives have become tremendously convenient. It is also true, however, that I miss those days when things were less convenient and less abundant than they are today. Such a feeling may be deeply connected with the fact that capitalist societies, which continuously pursued economic rationality and increased reproduction, are facing a big turning point.
In 1975, nearly half a century ago, Shoya Honda, the Company's founder, decided its name would be "Joyful Honda." He was a striking person with creative ideas and the ability to act. Those are our roots. When society at the time regarded loyalty and working diligently to be the sole principle, our founder had the vision that work should be a joy and we should create dreams together through joy. In that way he incorporated his vision into the Company's name.
Getting back to those roots, we will work on creating an organization that will not be a tiny, neat group, but will make every effort to achieve exceptional performance in unique ways.
Furthermore, we really want to be deeply rooted in local communities, so that local people in our operational areas can have a sense of attachment to us. We want to become a place that facilitates meeting, communicating, and caring for each other, and to make people feel relaxed. We also aim to serve as a store that can cheer customers up a little through a visit. While keeping our founding principle always in mind, we will take on new challenges every day. Welcome to Joyful Honda!
[Review of the first half of FY2019]
At the Joyful Honda Group, we are pushing forward with structural reform in four areas that we have been working on from the previous fiscal year by setting the current fiscal year from June 21, 2018 to June 20, 2019 (the 44th period) as a "Year to finish structural reform" with the aim of having further growth and development of the Group. For the first half of FY2019, our major efforts and performance were as follows:
For the "structural reform of business," we integrated our subsidiary in the previous fiscal year and are working on expanding the integration effect in the reform business, one of our strategic areas.
We analyzed issues in Joyful Honda Chiba Store that restarted business after being fully renovated in April 2018 to rebuild our future store management policy. In addition, we are working on the next step for new stores (a hardware store for business use and a store specializing in sales of pet items), both of which were opened in March 2018.
For the "structural reform of merchandise," we are continuing with a reform of the merchandise process including a review of the form and route of transactions and individual goods to enhance product appeal from the viewpoint of customers.
For the "structural reform of organization," we established a new Merchandising Group to strengthen our sales capabilities, with a new group system consisting of the Sales and Merchandising Group, Merchandising Group, Store Development Group and Administration Group. Clarification of these functions of organizations and areas of responsibility helps us to speed up ongoing organizational reform and enhance management capabilities of budget implementation.
For the "structural reform of expenses," we worked to simplify, streamline and centralize store management operations and integrated the administrative functions of certain subsidiaries with the head office for the purpose of optimizing the entire group's operations.
Under these circumstances, for the first half of FY2019, net sales reached 74,892 million yen, up 0.3% Y-on-Y. Operating income and ordinary income were 4,190 million yen, up 0.7% Y-on-Y, and 4,863 million yen, up 9.1% Y-on-Y, respectively. Profit attributable to the parent company shareholder, however, decreased 46.0% Y-on-Y to 1,504 million yen as we recognized an impairment loss of 2,472 million yen related to Joyful Honda Chiba Store in extraordinary loss.
The Group announced a revision of the full-year financial forecast on February 1, 2019 as follows. The Group revised the previous forecast after considering the financial results for the first half and recent performance and reviewing the cost plan in the second half. We will make a concerted effort to achieve this revised forecast.
Revision of the full-year financial forecast for the year ending June 20, 2019 (released on February 1, 2019)
(June 21, 2018 to June 20, 2019)
Net sales
Operating income
Ordinary income

Profit attributable to the parent company shareholder

Profit per share
Previous forecast (A)

Million yen

152,200

Million yen

8,390

Million yen

9,320

Million yen

5,800

Yen

83.78

Revised forecast (B)

149,560

8,300

9,460

4,360

62.98

Amount of increase (decrease)
(B?A)

(2,640)

(90)

140

(1,440)

-

% change

(1.7)

(1.1)

1.5

(24.8)

-

(Reference) Financial results for the previous fiscal year
(Year ended June 20, 2018)

148,676

7,981

8,800

5,594

76.85